Lighting solutions for the warehouses, logistics and maintenance
Logisticians and manufacturers are looking for versatile lighting solutions that combine functionality, performance and ergonomics.
Generally speaking, the height of the ceiling requires lighting that is sufficiently powerful and tailored to light the various different areas in warehouses and factories.
Efficient lighting stimulates productivity.
What's more, linking lighting to an intelligent management system will promote well-being at work and energy consumption. TRATO provide a range that has been specially-designed for this sector, including high bay with extremely high luminous flux.
HIGH-PERFORMANCE LIGHTING SYSTEMS IN INDUSTRIES PROVIDE ENHANCED PRODUCTIVITY, COMFORT AND SAFETY FOR EMPLOYEES
LIGHTING MANAGEMENT SYSTEM FOR INDUSTRIAL USE
In order to be able to effectively optimise and manage this type of high-consumption lighting, TRATO offer a lighting management system that has been specially-designed for industrial use and logistics warehouses. Lighting can be adapted to suit footfall, to the light requirements of the area in question and the configuration of the premises. This is a solution that is compatible with both large heights and standard heights.
The system operates using passive infrared motion detector cells fitted to the ceiling. Two types of cells are available: shelving (designed for aisles) or hall (designed for open spaces). These cells are controlled using a Smart Remote remote control and are resistant to dust and splashes of water coming from all directions (IP 54).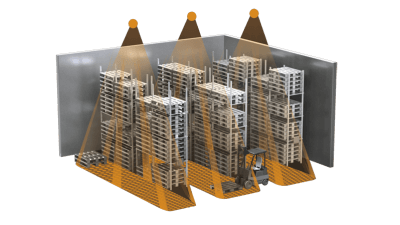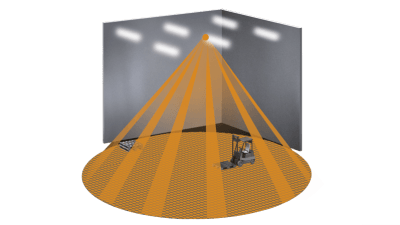 Do you want more information about our products or the implementation of your projects?